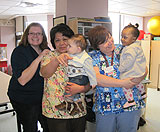 "...I feel like I'm part of a team here at the Bennett because everyone helps  each other out."
Grace, Personal Support Worker

"I like working for a non-profit organization because the needs
of the residents come first."
Joy, Personal Support Worker
Join Our Team
Employment Opportunities
If you are a health care worker who loves working with seniors in a pleasant and caring work environment, please consider joining our team. Although our staff turnover is relatively low, from time to time there are positions available. Current Vacancies are listed below.
The Bennett Centre is a non-profit organization governed by a volunteer board of directors who truly care about the residents and staff.
If you are interested in knowing more about employment opportunities at the Bennett Centre please contact the Administrator at 905-873-0115, ext. 8185, or by email at [email protected].